Alentejo CD
We are happy to announce a new CD release on 3LEAVES!
Scott Sherk's 'Alentejo' is now available through the label's webshop in a limited edition. You can listen to a preview track of the album on SoundCloud here:
https://soundcloud.com/3leaves/scott-sherk-alentejo-upcoming-album-excerpt

purchase limited edition CD from 3 LEAVES: http://3leaves-label.com/3lstore/index.php?route=product/product&path=61&product_id=96

REVIEW
Scott Sherk ~ Alentejo
With Alentejo, we welcome back the 3leaves label following a two-year absence. It's also a return to recording for Scott Sherk, who defines himself as "a sculptor who often works with sound". This quiet release offers a gentle way for the label and artist to reemerge. The disc is the audio portion of a larger installation in the Castle of Evoramonte, which also includes a color component from Pat Badt.
Alentejo, Portugal is described as "a sparsely populated area of gentle savannah with cork oak and ancient olive trees". As such, it lends itself to thoughts of tranquility: to the frantic, a slow pace, and to the overstimulated an opportunity to re-encounter life's simple pleasures. The first is a night under the open stars. As one listens, one imagines an area removed from light pollution, in which the nuances of the sky may be enjoyed. While we hear mostly crickets and a faraway dog, we think we hear the calling of the cosmos, the music of the spheres. More musical is "Sheep", which also features an expanded role for the dog. The bells are the highlight. With the sheep so subdued, the encounter comes across more as a herd of clappers. The wandering, speaker-to-speaker tones (repeated later in "Wind") produce a feeling of movement, walking the savannah with an improvised stick. The crickets will receive their spotlight later on as well, their voices manipulated in such a way as to provoke the question, "what sort of mates might these frequencies attract?"
For those immersed in urban environments, the listening experience may come as a shock. There are still vast, unhurried spaces in the world, spaces in which one might hear only a single conversation in a castle. Yet even in Alentejo the outside world seeps in, as proven on "Drone", which magnifies the intruding resonances of civilization. Offering counterpoint, the album closes with the sound of wind: soft and subtle, but capable of great fury, enough to engulf all other sounds should it so choose. We boast that we've tamed the world, but it's only an illusion. (Richard Allen)

REVIEW
Scott Sherk: Alentejo
from Textura (site link:click here)
3LEAVES
A sound sculptor and Professor of Art at Muhlenberg College, Scott Sherk uses his fine-tuned sensibilities on this 3LEAVES recording (available in 200 copies) to render the Alentejo of Portugal into compelling sound form. A number of years ago, he produced field recordings of walks taken through New York City, Los Angeles, and rural Pennsylvania; recent projects have reflected a growing interest in the ambiences of spaces, and to that end he's created portable spaces replete with their own audio environments. As beneficiaries of the Foundation OBRAS, an art residency program in Portugal, Sherk collaborated with painter Pat Badt on an installation titled Cor + Som (Color + Sound) based on their Alentejo experiences that was presented at the Castle of Evoramonte; as a document of the audio portion of the installation, Alentejo in effect exemplifies both the characteristics of a self-contained audio environment and walking tour, given how effectively the recording's seven pieces constitute a sound portrait of the locale.
The Alentejo itself is a windswept and sparsely populated place filled with ancient olive trees, pastures, dusty fields, prehistoric stone sites, orchards, and a stone castle, and as such impresses as a setting that has remained pretty much the same for centuries. Though Sherk generally refrains from imposing himself too conspicuously on the field recorded material, manipulations are sometimes evident, albeit subtly. Notes included with the release clarify that "Crickets," for example, contains the insects' sounds only, yet also state that he "slowed them down and stretched them out"; similarly, "Silent Valley" incorporates recordings of rustling grass, wind, insects, and birds, but he also "used the moments of sound to generate corresponding sine tones." As a result, whereas "Sheep" registers as a relatively untainted sound portrait of a dog protecting a herd, "Silent Valley" sounds closer in spirit and form to an electronica track equipped with echo-heavy synthesizer flourishes and minimal beat elements. There's little question that contributions by Sherk also figured into the content of "Drone," an eight-minute soundscape that sees insect and bird sounds undergirded by industrial hum.
Elsewhere, with accents of light streaking across a cricket-laden backdrop, Sherk captures the nocturnal character of the region in "The Night of Falling Stars"; "Castle" feels hermetic by comparison when the Evoramonte structure's thick stone walls and high vaulted ceilings turn a standard conversation into a reverberating mass of pure sound. Needless to say, the seven pieces, as distinct as they are from one another, enable the listener unfamiliar with the locale to feel as if the Alentejo region has been explored, even if the 'visit' is one refracted through Sherk's presentation design.
June 2017
---
SonanceZoellner
SonanceZOELLNER
Zoellner Art Center
Lehigh Univeristy
Bethelhem, PA
4/10/17-- 12/10/17

SonanceZOELLNER is a sound installation by Scott Sherk within and outside the Zoellner Arts Center at Lehigh University, Bethlehem, PA. Field recordings were made from 6 sites, and the processed sounds are re-presented in the specific places through specially designed sound units. SonanceZOELLNER has an opening recpetion on Thursday, April 20 at 6:00 and continues through 12/10/2017.

Video link

Artist Talk: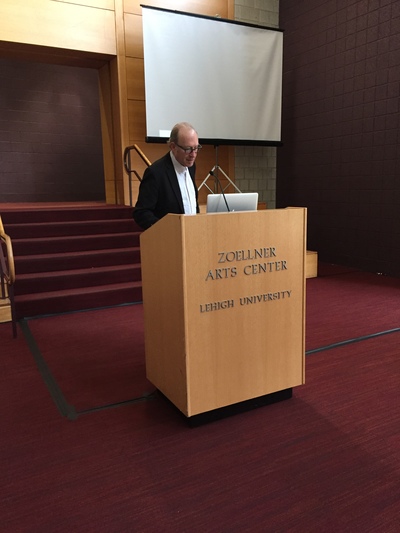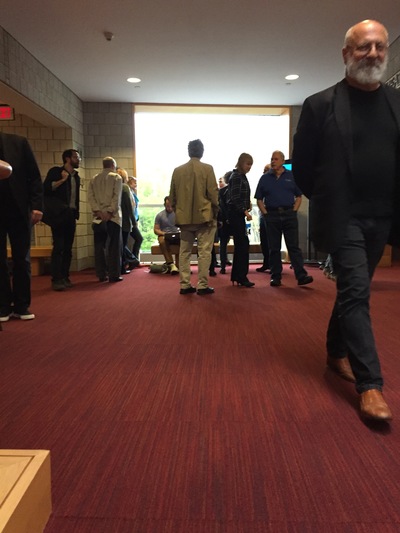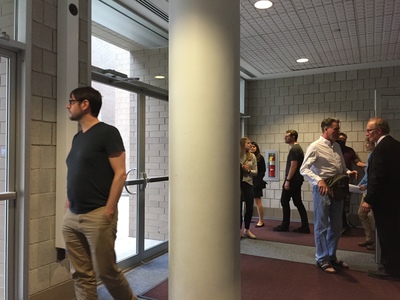 ---
Edges | Transitions
Edges | Transitions
Auzanne Arnold Art Gallery
Lebanon Valley College
April 6 - May 21, 2017

Edges | Transitions explores the moments of transition when one thing moves into another; the place where edges dissolve. The exhibition is inspired by Pat Badt and Scott Sherk's recent artist residency in Valletta, Malta. As an island, Malta is a continuous edge. Sharp cliffs define the edge of water and land, cultural conditions define an edge between Europe, Northern Africa, and the Middle East. Its geographic location and long history of conflict have defined it as place of transition.

This exhibition will include sound audio work, large-scale video and color interventions along with individual color studies and small-scale video/sound pieces. Viewers are invited to occupy a central viewing station (an island) to encounter a horizon of color, video and sound events. Additionally individuals works may be seen as boats on the water, developing individual sound-color interactions.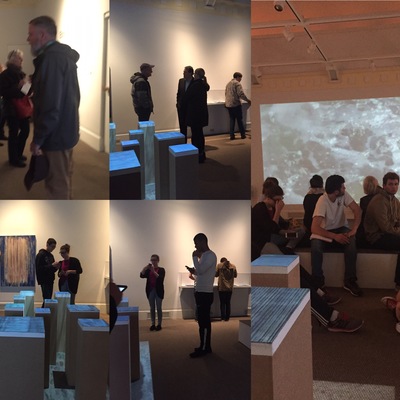 ---
ARTISTS 2017 at LUAG, Lehigh University
ARTISTS 2017
January 25-May 28, 2017

LUAG, Lehigh University


Flow, this too will pass, painting: oil on support, 3 panels each 12 x 48; sound, 4 speakers, audio equipment 4 channel sound
---
UPRISE | ANGRY WOMEN
The Untitled Space gallery is pleased to present exhibition, UPRISE / ANGRY WOMEN, curated by Indira Cesarine, featuring the work of female contemporary artists responding to the current social and political climate in America in light of the recent presidential election. The exhibit will take place from January 17- 28, 2017, opening the week of the presidential inauguration, with several events to take place including an opening reception on January 17th and event on January 22nd which marks the 44th anniversary of landmark case Roe vs Wade.
The UPRISE / ANGRY WOMEN exhibit is presented in partnership with the ERA COALITION, a political organization that is working to support passage and ratification of the Equal Rights Amendment, and a portion of proceeds will benefit their Fund for Women's Equality. The Fund for Women's Equality is a charitable organization, working to raise awareness on gaps in the law that leave women without legal recourse from sex discrimination, and developing educational resources on the need for a constitutional provision to protect and promote equal rights for women. Founded by Jessica Neuwirth, author of "Equal Means Equal", the ERA Coalition board also includes Gloria Steinem, Teresa Younger and many other prominent women's rights activists.